We have 2 versions
The Spot Colour Risograph - click here for more details

The Full Colour Inkjet - click here for more details
Both machines are about as "green" as printing gets - no solvents, no toner, cold process.
Very good value for short and medium runs.
Both machines print on recycled paper and card
Charities and community groups can even come in and use the Spot Colour Risograph for DIY Printing - and that is even more economical.
We are wheelchair accessible.
However, these machines are not suitable for all print jobs. The spot colour machine cannot print large solid areas of ink (the wet paper would just get stuck on the drum) and the full colour machine inkjet cannot reproduce the vibrant colours associated with a colour laser printer. So...
If you need near photographic full colour, or very fine detail that just won't print with the veggie inks or on the inkjet printer, we have digital laser printers that will do the job.
Whilst not as eco-friendly as the Risograph, laser printers create little waste, do not require solvents or wash-downs, and do not produce those nasty smells associated with some colour printing processes.
All our laser printers can be used to print on recycled paper and cards.
(Sorry, but there is no DIY available for this type of printing.)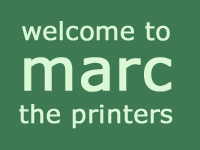 MARC is now in Salford
We are now settled in our new home in Salford and
have been printing from here since January 2018.

If you are able to pick up your
orders please do.
Otherwise, we are able to arrange bike couriers for
City Centre locations or
Royal Mail for posting to
your address.